Stay Inside and Enjoy Our Online Events.
It's Girls' Night "In" in South Jersey!
---
Every guest receives a Bday Gift valued at $185!
It's our 5th "It's EVERYONE'S Birthday" Birthday Party! So whether your special day is Jan 21 or May 15 or any other day on the calendar, if you join us for this fun party, you will be celebrated in a big way! It starts off with your birthday gift–valued at $185–delivered to your home, before the party.
Every sponsor will contribute to YOUR birthday gift!
We're planning our next one now!
---
February 17, 2021: Virtual Psychic Event!
SOLD OUT!
This sold out so quickly, we added on a March 24 event! See below.
March 24, 2021: Add-On Virtual Psychic Event!
Psychic Medium Marie Gilbert's Feb 17 appearance sold out so quickly, we're bringing her back on March 24.
Marie brings puts her heart into every psychic reading she does. Her humor informs her own life, and includes her love of everything Steampunk!
Marie says, "I get into more adventures than a comic book character."
Marie will answer your questions about career, finances, love and more.
Only 10 tickets will be sold for this event, guaranteeing that everyone who comes gets a reading.
CLICK HERE FOR MORE INFO & TICKETS TO OUR VIRTUAL PSYCHIC EVENT
---
Upcoming Virtual Events
March 17, 2021: Virtual Art Event featuring Lorena Melcher
April 21, 2021: Virtual Psychic Pet Communication Event featuring Bridget Pagano
May 2021: Virtual Mosaic Art Event featuring Enid Farina
---
Take a look at how much fun we have at our in-person events!
Come to our Girls' Nights Out with Friends or make new ones!
This pic is from our very first Birthday Party
Making a toast to a fun Girls' Night Out at one
of our Birthday Parties.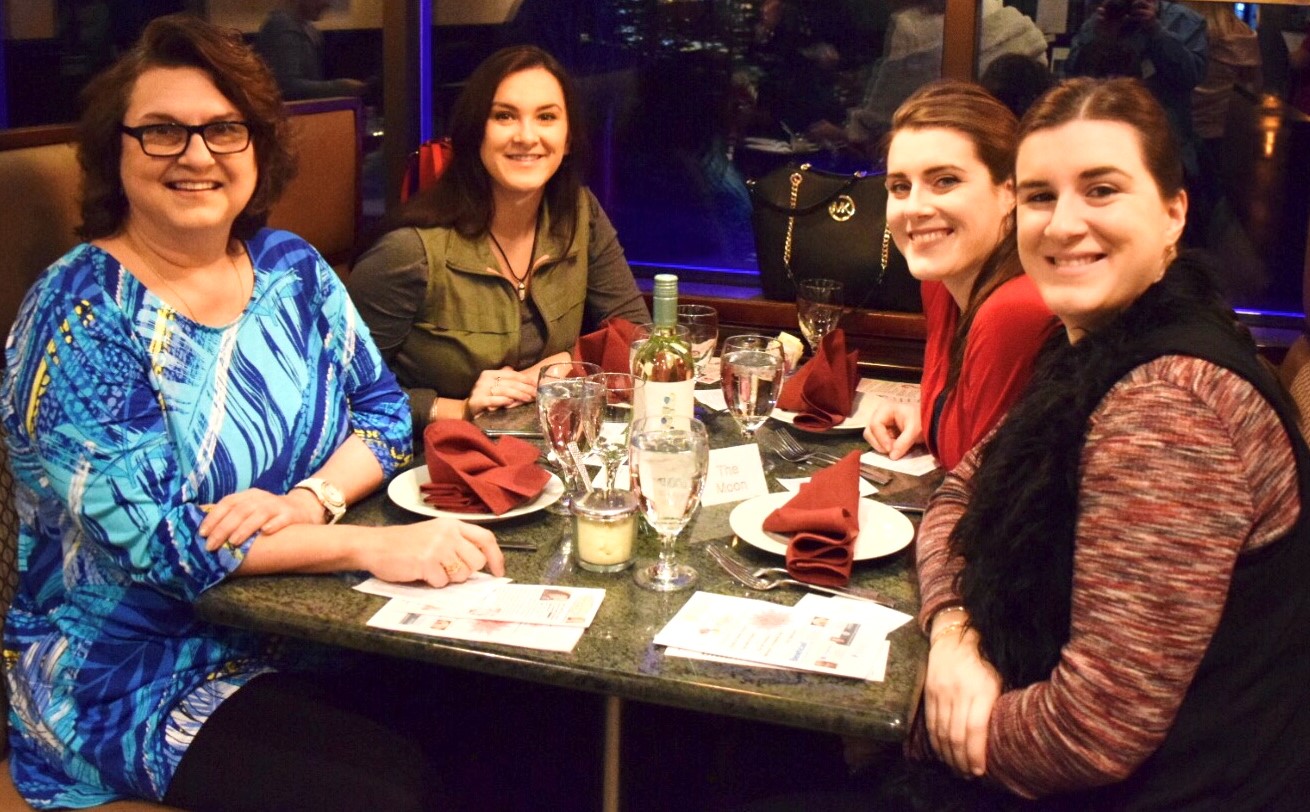 Psychic Medium Judy Dingler bringing in messages from Spirit at one of our Signature Psychic Dinner
---
Click here

to see LOTS more pictures,
PLUS what our guests have to say!
---
Find Out About All of Our South Jersey Girls' Nights Out!
Upcoming Events are always being planned. Sign up for our emails to get first word on our events, PLUS 10% off the regular price of your first in-person event!
Take a moment to check out pictures from our past events, as well as our Facebook pages:
Franks and Beans Events: Find out about our events, and have a giggle or two, on our official Facebook page.
South Jersey Girls Who Wanna Have Fun: This is our closed Facebook group for women only. Answer our QOTD (Question of the Day) while making new friends. If you see two Barbie dolls, you're in the right place. FYI: We vet this closed group

closely

, so please answer the questions when you request membership.

Tobi & Stan's Clean & Green Norwex Group

:

Our family has two passions: Franks & Beans Events and Norwex products (earth-friendly cleaning products with absolutely no harsh chemicals). Check out the products here, and then j

oin

us on

Facebook

for fun, games, prizes, product specials that are exclusive to our page, and new product announcements!
Photography by Marvin Coe
~~~~~~~~~~~~~~~~~~~~~~~~~~
If there's one thing I learned at Girlfriendz Magazine, it's that
Girls Just Wanna Have Fun!
I created and produced countless events for my magazine, and they were
always a success because women just like to get together and have a good time. Now in my 12th year of planning and producing events, I understand why they are so popular. They create the perfect environment for:
Female camaraderie, social connection, fun and healing
Comfortably making new friends in a safe environment. Many of our guests are new to the area, due to downsizing, or another recent life transition. Groups are limited to 50 guests and assigned seating helps match similar women at small tables. We are now offering Friendship Ambassadors to sit with anyone who wishes, to help guests feel comfortable and meet new friends.
Reconnecting with old friends
Easily gathering friends together, without having to plan, host, set-up, or clean-up
Giving to charities that are important to women—95% of Franks & Beans events have a giving component
Taking a needed break from juggling, parenting, caregiving and working, as well as the challenges of life such as: widowhood, divorce, empty nest, retirement, relocation, illness, and/or whatever stressers or changes are in your life
Increasing your well being and longevity. Reports show that in-person connections have a greater impact on health and longevity than quitting smoking or drinking, dieting and exercising
At Psychic Dinners: Potentially connecting with loved ones who have passed.
At Painting & Crafting Dinners: Enjoying and exploring your creative side.
Shopping for merchandise and services from local, small businesswomen
Laughing, enjoying wine and a delicious meal, and if you're lucky, go home with one of the many prizes awarded at each event
Come to Franks & Beans Events with friends, or feel comfortable coming alone. Because the women who come to our events are friendly, welcoming and yes, even nurturing!
We also produce events for companies who need to get noticed and increase their sales. Want to talk about an event for your business? Contact me!