What's Franks & Beans?
My sister and I were lucky enough to share two exceptional parents—Frank & Bea Schwartz. We loved them and miss them, so I paid tribute to them by naming my business in their honor.
About Tobi
I've been writing professionally for over 35 years, and upon establishing my company Franks & Beans LLC in 2014, I added event marketing to my repertoire. I specialize in planning and promoting Girls' Nights Out, as well as B2B event marketing and event planning. I offer my clients strategic marketing and branding campaigns that include themed events and other essentials like blog posts, Constant Contact email newsletters (I am a Certified Constant Contact Solutions Provider), feature articles and more.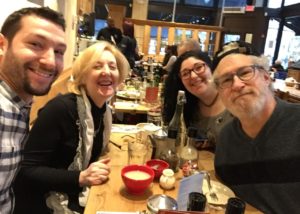 My career started on the radio. I was a newscaster at WWDB-FM and WPEN-AM, both in Philadelphia, spending a total of 20 years in broadcasting. Most of my time at WWDB was spent doing news for Sid Mark's "Friday with Frank" show. I also hosted several cable-TV and call-in talk shows. I eventually left full-time broadcasting to go into advertising, and wrote print and broadcast copy at Kalish & Rice Advertising and the John Wanamaker department store chain, both based in Philadelphia.
When the opportunity presented itself, I agreed to co-author a book. "Adding Value to Long-Term Care" was published by Jossey-Bass, an imprint of Wiley Publishing. It was well-received and opened doors for me to write for local consumer magazines and national trade publications.
In 2006, I founded Girlfriendz Magazine, targeted to one demographic only—Baby Boomer Women. The National Association of Baby Boomer Women deemed Girlfriendz the nation's first regional magazine devoted solely to that audience.
As Girlfriendz's publisher and commander-in-chief, I generated article ideas,
wrote and edited articles, and assigned many articles to Baby Boomer Women who had always wanted to be professional writers, but never had the opportunity. I worked closely with them to develop their talent, and eventually they were assigned articles by regional and national publications. I also planned, promoted and produced events and appearances, created and ran all contests, and performed all marketing and public relations for the company.
I also had the honor of meeting and interviewing many celebrities including: Marlo Thomas, Barbara Eden, Cokie Roberts, Diahann Carroll, Mayim Bialik, Wanda Sykes, Tina Louise, Dionne Warwick, Margaret Cho, Sherri Shepherd, and Frankie Avalon.
I love to speak at women's and business organizations and am available to speak at or emcee your next company or non-profit event.
Awards I have won include:
"Hermes Creative Award" presented by the Association of Marketing & Communications Professionals
"Woman of the Week 'You Rock, You Roll'" Award from Philadelphia's 95.7 BEN-FM Radio
"Media Advocate of the Year" Award from the National Association of Women Business Owners (NAWBO)
"Delaware Valley Entrepreneur" Award
Four Communicator Awards presented by the International Academy of Visual Arts
Read some of my celebrity interviews and other articles and contact me at Tobi@FranksAndBeans.net.
I'm a proud honors graduate of Rowan University, and share my life with my amazing husband Stan, our two fabulous kids Richard & Jardin, our dog Fred, and our cats Lucy & Peter. For 8 years, until very recently, Stan and I spent our spare time running the snack bar for the Cherry Hill High School East theater program where we sold lots of Franks, yet surprisingly, no beans.
I'm happy to say that Jardin is now in her senior year at my alma mater, Rowan U.
Richard is a graduate of the University of the Arts and in addition to being commissioned to create high-end furniture of wood (like the cabinet at the left), he is a Realtor with Keller Williams, and is licensed in New York and Pennsylvania.
I am on the leadership team of the Cherry Hill-Mount Laurel Chapter of the Holistic Chamber of Commerce, which is open to the public whether you own a business or simply want to live a healthier lifestyle.