DATE: Thursday, November 30, 2017
___________________________________________
___________________________________________
Our 1st Women's Shopping Expo was small and cozy. Our 2nd was huge! You've told us you liked that smaller, more intimate venue better, so we listened! This year, join us at Aenigma Jewelry in Collingswood for vendors and shopping, snacks, wine and prizes! And your ticket can be used as a $5 gift card that night at Aenigma!
___________________________________________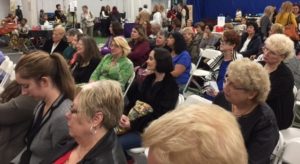 Join us for:
Boutique Marketplace: Get a jump on your holiday shopping, avoid the lines at the mall and avoid shipping costs by joining us on Nov 30 to shop at Aenigma and at our many vendors' tables!
Refreshments: Girls just wanna have fun, but they also wanna snack and drink wine, too. Yup, that'll be there!
Donations: Benefiting Cantor Scott's Animal Rescue Center [a 501(c)(3) based in Cherry Hill, benefiting portions of both Camden and Burlington Counties]. Please consider bringing pet food, used clean linens, paper plates, paper towels, detergent, bleach, gift cards to pet food stores, etc. for the ARC. Cash and checks will also be accepted and any amount will be very much appreciated.

Door Prizes and BINGO Prizes!
___________________________________________