By Tobi Schwartz-Cassell
When my friend Carol and I were sophomores in high school, we'd have sleepovers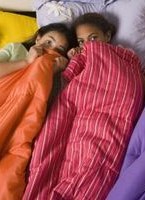 most Saturday nights. When we slept at her house, we'd share the double bed in her guest room, but we'd have some uneasy feelings. So uneasy were these feelings that we'd have trouble falling asleep. Those feelings were based on a picture on a box on the dresser in that room. It was a creepy picture of Betty Crocker on Carol's old baking set.
Not only was that picture disturbing, it also conjured up some suspicions in our adolescent brains. Was she real? Was Betty Crocker REAL? And based on that creepy picture, WAS SHE COMING TO GET US?!
At some point, I figured I'd better do some digging or I'd never comfortably sleep at Carol's house again. So I did, and it was probably one of my earliest journalistic endeavors. (I eventually became a broadcast journalist, she an RN.) Of course, I couldn't do the research from home because these were pre-Google days. Heck, these were pre-computer days! So off I went to the library.
My research showed that Betty was indeed, a fake.
According to an article in Ad Age published nearly three decades after I did my research:
Betty was created in 1921 after a promotion for Gold Medal flour flooded Washburn Crosby Co. with questions about baking. To answer customers in a more personal manner, the company created a fictitious kitchen expert, pulling the name "Crocker" from a recently retired director of the company and adding the first name "Betty" because it sounded friendly.
Washburn Crosby's female employees were asked to submit handwriting samples for Betty's signature and the one selected as "most distinctive" is still Betty's signature today.

I presented my findings to Carol, and we didn't know what to think! All throughout our respective childhoods, Betty Crocker was da woman. When we'd see that red spoon with white lettering, we'd think cooking…comfort…credibility. Now what?
Now nothing. There was nothing we could do.
So we decided to just get a good night's sleep.
And we turned the box so that Betty's picture faced the wall.
With ♥,

PS: Can you choose which picture above was the one that scared us? Comment here by posting the corresponding letter. If you'd like, explain why you chose her. I'll give the answer in my next post.