By Tobi Schwartz-Cassell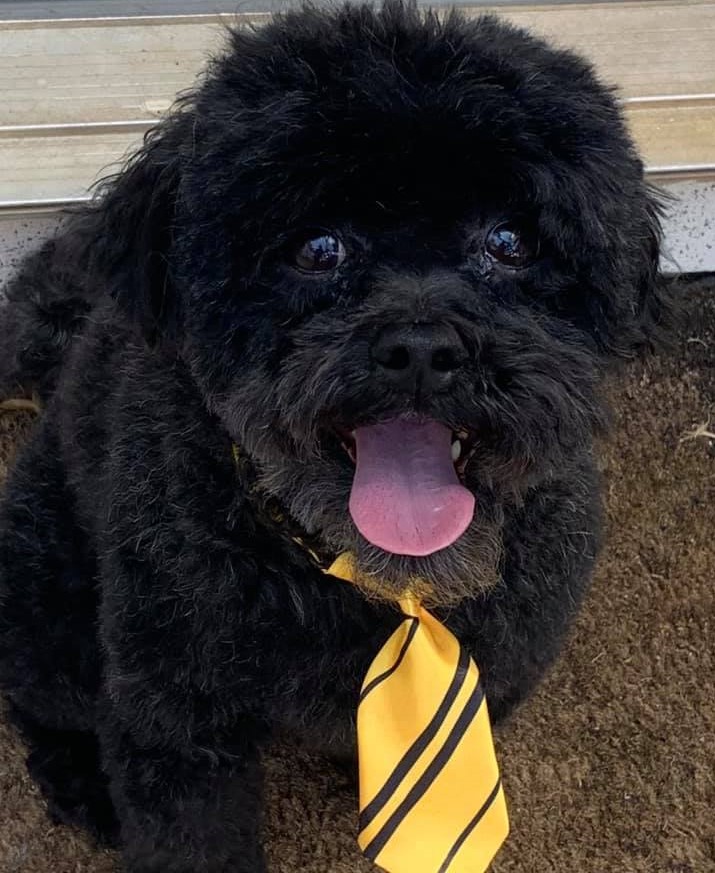 It was a simple enough question, posed on our South Jersey Girls Who Wanna Have Fun closed Facebook group. "Does your dog (or cat) have a middle name?"
I came up with the question after a friend of mine told me that her dog's name is Whistle. I asked if his middle name was Blower.
It is not.
But I did get some great answers to my question. One of the best came with a newspaper article to document it.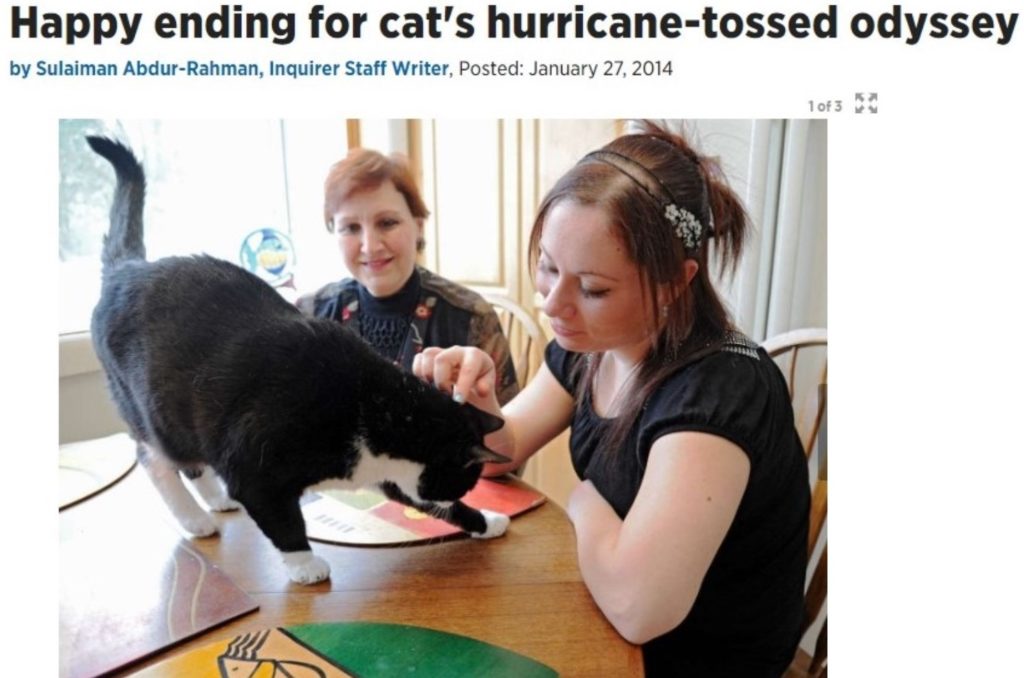 Franks & Beans Events' very own Linda Rosenson Coe (pictured here) has a cat named Ansel Catems. It's a twist on the name of the famed photographer Ansel Adams, a favorite of Linda's husband Marvin Coe, our Official Franks & Beans' photographer.
Other names were so funny and so sweet, and I thank everyone for sharing them with us:
Anne M Stengel: My little she-poo is Rocky Doodle/Pupper Doodles (pictured above in the dapper yellow necktie).
Deb Ferguson: Our dog is Dante Hicks Ferguson. He's named after the character in "Clerks."
Lauren Sprague: My cat is Philly Thomas!
Cathy Wilson: When Shelby was alive, her full name was Shelby Scully Wilson. Shelby for the character in "Steel Magnolias", Scully for the character in "X-Files" because she was chipped, and Wilson because she was a member of our family.
Kim Mercantini: My cat is Cali Anne.
Kathleen Bridgewater: My dog is Lilly Ann.
Karen Marie: Giovanni Michael
Ateia Nesmith: Sugar Pie Honey Bunch Harrington.
Eileen A Weiss: No middle name but Mayhem's nickname is Bug.
Sandy Fishman Konefsky: Had a cat named Squeak because he squeaked instead of meowing. Had a poodle who my husband named Picaboo because he liked Picaboo Street (the skier). My Afghan hound was Tasha Benvicki (from Benvicki Kennels). She looked just like the Afghan hound in the Apple iPhone commercial.
Theresa Ann: My cat's middle name Joe. She is Teddie Joe!
Marcella Yanulavage-Strenger: My Border Collie's name is Jasper Jackson, my Cockapoo's name is Sparky Sparkalicious, and my cat's name is Riley Ann, even though he's a boy.
Lisa Rife: My Daisy is Daisy Mae. Before Casey passed away, she was Casey Marie.
Terry Ginsburg Goncharoff: Ollie was Oliver Elvis and Shayna is Shayna Sugar.
Lisa C. Anderson: "The." Felix "The" Cat.
Hollie Donnon: Spencer Edwin Donnon (pictured here)
Dana 'Captain' Rinaldo: Rockefeller Roofus Rinaldo. Rocky Roo for short 🤣🤣
Peg Willard: Years ago, my sons decided to name their cat Tonka, after the toy trucks. His middle name was Bonks. Tonka Bonks Laney.
Sarah Moore: Artemis Stumbledore Dumpsta-Diver
Emily Keifer-Jackson: No middle name. Just Snowman Jackson
Melissa Price: Long ago, I had a dog named "Notes." But it was spelled "Gnotes" since I was a musician and his puppy bark was a "G" note. Gnotes became Gnotesey and then ultimately Gnotesey Punkin' Noodlesmith because after all was said and done, he was a noodle-connoisseur.
Kathleen Lindley: Lil' Stalker "Cra-Cra" Kitty (Pictured here)
Shep Greenberg: Bear. Yogie Bear.
Jennifer Lynn: I wish my dog had a middle name. That would be cute. His name is Teddy, but I call him Theodore when he is does something wrong. LOL!
Taralynn Sandker: Our guinea pig has a middle name. He's George Cooper Sandker.
Wendi Lynn: No middle name, but one had a last name that wasn't mine, LOL!!!!
Donna Laurent Gabler: My cat's name is Maggie–short for maggots. I found her at 3 weeks old covered in maggots. It was a long road but within a month she was a normal cat. She is little brat at times, so the name was appropriate 🙂
Lauren Palmer-Wearne: Leah Nicole (Aurora, my daughter, and I share that middle name so we gave it to Leah) Rosie Faye. Stitch Beauregard. Camilla Hope. And Bella Bug. LOL
Debra Thornton: Her middle name is Ann. She is Sally Ann.
Debbie Kirk Kobus: My dog's name is Ginger Beans.
Jerri Griffith: Effie Trinket and Obi Wan Kittenobi
Holly Ward-Mauger: Buddy Blue (dog), Princess Fiona (cat), Trouble Littlefoot (cat), and they all have the last name of Ward-Sheairs-Mauger 😂
Michelle Hagy Helfrich: Coconut "Rum" Helfrich
E Jazmine Kiah: My cat is Ariel Precious.
Lois Rosenfeld Urkowitz: We had Ezra Keith Urkowitz after the band members of "Trout Fishing in America." They were quirky and so was Ezra. Our Labradoodle was Zoe Rose. New addition is Willy Wonka (previous owners).
Beth Browdy Gonyea: Champ Anderson Pooper Gonyea
Carla Mandell: Lucy Furr. Combo for Lucille Ball and Lucifur. Sweet, funny, playful, devilish, tons of energy.
Lisa Pestcoe: Lou…her full name is Luckie Lou Lapue
Amy Schaaf Kueny: Gunnar–his dog father's name! Full name is Bauer Gunnar Kueny.
Barrie Weinberg Urbano: My Moe was Joe. Gracie was Lou.
Dianna Arble: Ginger, Equinsu Ocha …it's white devil from "Ace Ventura." 😂 She is a bad dog.
Marci Mathis: Our pets' middle names are always the names they were given at the animal shelter before we adopted them. <3
MaryAnn Ragone DeLambily: Jake Jakester, Crazy Daisy (and that's the truth), Mia mee-mo, Ciana see-saw, Lucia Luchee, Leo Leosky, Biscotti Limpy Limpster (rabbit)
Steve Platt: My cat was often called "Mr Annoying Face." So was his middle name "Annoying?"
Jen Bärr: I'm not a pet person, but now I want one to give it a middle name! I think I'll get fishies…I'm not sure of a name yet, but they seem like they'd be low maintenance. No walking required.
We even got some ethnic names!
Lisa Sengin Yuen: My first cat was Mogan David! (Translation: Star of David)
Judie Weiss Mangel: Macey Mazel Mangel (Translation of Mazel: Luck)
Shelly Cortés: My boy is (spoken with a Spanish accent) Chico R. Cortés, the R stands for Raúl.
Stephanie Garofalo: No middle names. Just a Mario and a Luigi.
And there is even royalty among us:
Danielle Showell Nolan: Spotty Louise Liscious LuLu Nolan, the 1st. LOL
Sandra Zydanowicz Cook: The neighborhood gave her a name when I got her. Miss Willow of Kenwood Estates. 🤣 I live on Kenwood Rd.
Mika Murray: Calvin Crookshanks Murray, Mickey Mouse Murray, Maxwell Caulfield Murray (deceased 😔), Kitty Cat Murray (Calvin's mom, deceased 😔) and Fluffy Jane Murray (deceased, my 1st cat 😔). My Princess is the only kitty to not have a middle name. But since she's a royal she doesn't need it. 😂
So, what's your pet's middle name? Please let us know in the Comments Section below.
My dog's name is Fred Benjamin Cassell (pictured here). Benjamin is in memory of one of our earlier pups, Ben. Ben's middle name was Casey, who was our furbaby before him. Casey, Ben and Fred all share a beautiful face, and a sweet, loving heart.
We also had a pup named Rachel. We adored her but she had her moments. We joked with people that her middle name was Trouble. And it eventually stuck. RIP Rachel Trouble Cassell. ❤
❤,